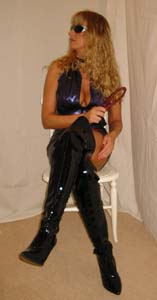 Welcome to Mistress Karena's website. Mistress Karena is based in Manchester, England.
She will accept slaves for most kinds of fetish, humiliation and fantasy.
Mistress Karena is a lifestyle domina and believes in corporal punishment using canes, whips, crops, paddles and torture of slaves from novices to experienced submissives.

Mistress Karena has a wide range of clothes, fantasy outfits and uniforms for fetish and fantasy play with equipment and accessories, which include a prison cell, whipping bench, suspension frame, St Andrews Cross, collars, nipple clamps, paddles, leather straps, ropes, cock rings and slave harnesses.
By entering Mistress Karena' s website you confirm that you are fully aware that its contents are of a sexually explicit nature and may contain detailed accounts and images of BDSM and S&M themes.

I fully understand the abbreviated terms.
I am not offended by writings and images of Bondage, Domination ,Sadism & Masochism ( BDSM ).
You confirm that the computer used to connect you to this adult web site is your own and if it is not, You confirm that you have permission from its owner to use it for this purpose.
You also confirm that you are over the age of 21.
I understand the laws of my community and can confirm that I shall not be violating them by entering this site.
So If you want to Feel the Power of Female Supremacy.
Then you may enter.