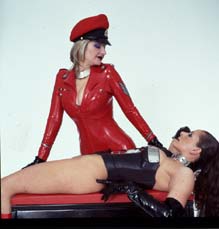 In My stories the plot's banality can be its very point. Few sexual fantasies are original. When structure provides a familiar terrain it leaves your imagination free to play with the detail. My fantasies exist to satisfy My desire, not to win creative awards. I create a kind of truth rather than describing a pre-existing one. My fiction is written using the raw materials of My real world experiences. I don't reproduce exactly what happened, which would be to write history but rather I aim to create an alternative reality. The truth comes from the work itself, not something exterior to it.
I'm such a believer in the beauty and potential of humanity that when it lets Me down, it's really disappointing, and My scorn is something to behold! When I write, I try to show that sometimes humans can be at their best in the worst situations, and that everything good about us has a shadow. I also believe in the redeeming power of humour and many of My tales have a tongue in cheek aspect.
"A woman is often a wonderful thing. And you are. But in you, as in all of them, is the indifference of Carmen, the joy in cruelty of Cleopatra, the tyrannical marble-heartedness of Katherine de Medici, and the cold glitter of all the passionless despots of men's warm souls since sex first originated -- since Eve broke the heart of humanity forever and laughed with sadistic joy at Adam sweating blood on the rack she made for him"
- James Thurber